Mid-Week "2.0" Worship Readings
Similar to Sundays, our mid-week "2.0" worship will now feature one or two scripture readings plus the gospel (i.e. either the first or second reading, the gospel lesson, and occasionally a psalm).
Instead of including the text on the video screen, we will make the texts of each week available for download if you would like to follow along. Texts with an *asterisk will be read on the 2.0 video. Please click the week below for downloading a pdf. Enjoy!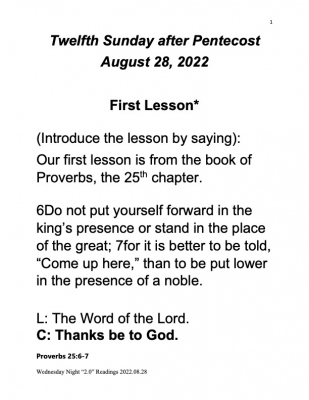 Featured texts for mid-week "2.0" - July 6th (for 7/10), 2022
Featured texts for mid-week "2.0" - July 13th (for 7/17), 2022
Featured texts for mid-week "2.0" - July 20th (for 7/24), 2022
Featured texts for mid-week "2.0" - July 27th (for 7/31), 2022
Featured texts for mid-week "2.0" - Aug 3rd (for 8/7), 2022
Featured texts for mid-week "2.0" - Aug 17th (for 8/21), 2022
Featured texts for mid-week "2.0" - Aug 24th (for 8/28), 2022
Featured texts for mid-week "2.0" - Aug 31st (for 9/4), 2022