Children's Ministry
Here at BLC we take seriously our call to nurture our children in faith. We love having children in worship and we enjoy watching them learn the songs, prayers, and scripture that are at the heart of our faith in Jesus Christ. We offer many opportunities for children to learn and grow in their faith.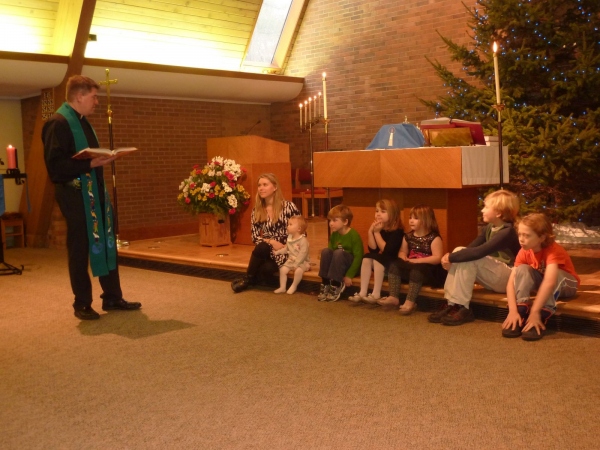 The Children's Sermon...and they seem to be paying attention!
Baptism
Baptism is a sign and seal of God's grace that we receive once in our lifetime. Lutherans recognize all forms of Christian baptism. Upon baptizing an infant or a child, the church community promises to teach that child the faith and to nurture them throughout their lives. If you are interested in having your child baptized, please contact Pastor Paul at (213) 947-9880 or paul.busekist@bethlehemtc.org
Nursery
Our nursey is located just across from the Sancutary and is open for parents and children to use during all services. The nursery is staffed by loving church members for our Sunday services.
Sunday School
During the education hour, from 9:45-10:45am, kids from preK-6th grade are invited to join us for Sunday School. We begin in the Fellowship Chapel where we sing songs and take an offering. Then we move to our lower level classrooms to learn about the Bible, eat a snack and make a craft.
The Well (Summer only)
The Well meets during the 11:00am service. Children will worship with their parents in the Sanctuary for the beginning of the service. After the Children's Sermon, preK-4th graders are invited to The Well for an age apporpriate lesson about the Scripture of the day, a craft to emphasize the story, and a snack. Children will rejoin their parents for worship after the sermon so that they are present for Communion.
First Communion
First Communion classes are offered for Children who have not yet received the sacrament. For more information on upcoming classes, please contact Pastor Paul at (231) 947-9880 or paul.busekist@bethlehemtc.org
VBS (Vacation Bible School)
This past year we offered a VBS during Spring Break and it was exceptional. Look for it again in 2017. And each summer we offer a week long VBS for preK and elementary age students. We have a ton of fun playing, laughing and learning!
Fun & Fellowship
BLC offers several fun and family oriented events thorughout the year. We gather for movie nights, sledding parties, bike rides, beach days and baseball games, to name a few. Keep an eye on our calendar for upcoming events!