Pledge to Help Our Ministry
Online Pledging
Pledge to Help Our Ministry
Thank you for making a pledge toward our Stewardship Campaign for next year: "All Things through Christ."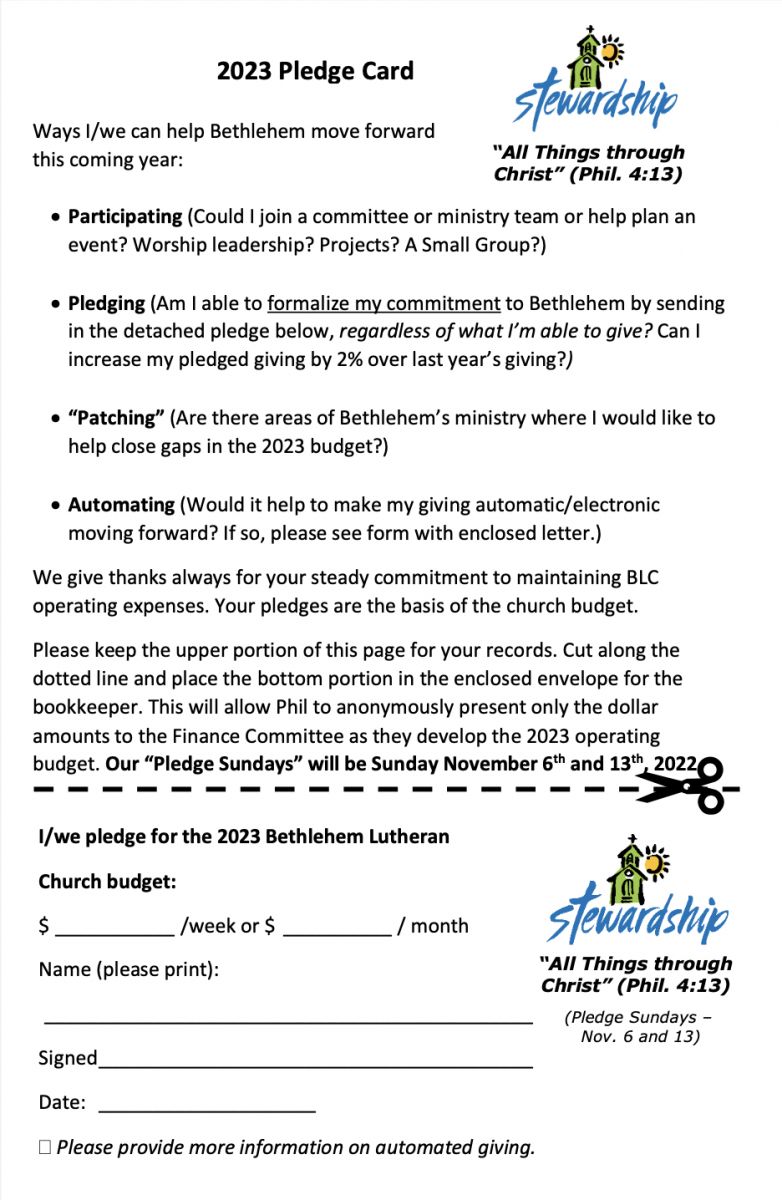 To the right is a .jpg OR .pdf version of our pledge card for next year. This form has helpful information for your personal stewardship journey, on how you might want to offer your time, talents or treasure in the next year.
You can either click on and download that form and send it to. our bookkeeper in the offering vase, postal mail or email (bookkeeper@bethlehemtc.org)
OR
Fill out the confidential online form (below) and our book keeper will reach out to you soon to confirm that your pledge has been securely entered into our records.
Your pledge information will be held in confidence and will not be shared with members of the congregation. Please contact our bookkeeper Phil Anderson if you have any questions or concerns about your pledge.
Any changes in your pledge amount will not take into effect automatically. To begin the process for ACH changes, visit or click on http://www.bethlehemtc.org/automatic-giving
We give thanks always for your support of Bethlehem and our ministry!
Online Pledge Form Below:
Please note: Entering a pledge amount is a symbolic act of faithful giving and in no way accesses funds from your bank account, changes an electronic/ACH contribution, or breaches the security of any banking information at Bethlehem. For privacy and security purposes, we will also verify your identity by emailing you back at the email address stored in our database to make sure your pledge is really from you. You also have the option to provide either your full name or membership/envelope ID # below. (If you would like that ID number for your records, please contact our book keeper at 231.947.9880.)