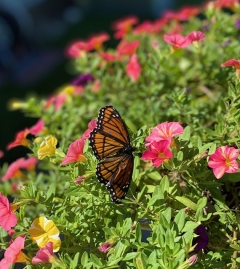 We all have tools. I have probably more than I really need. I have one for almost every fix-it job I have ever undertaken. I have tools in the garage, in my shed, in my car, in my basement – you get the picture. I know the value of tools and take the time to keep them in pristine condition.
The Good Shepherd in Psalm 23 also had important tools. Towards the end of verse 4, David writes, "…Your rod and your staff, they comfort me". In other words, the shepherd's tools should reassure us. He is not ill prepared. He has a rod to drive off predators and enemies. He knows how to club the predators that prowl around looking for someone to devour. He also has a staff with the crooked or curved top, so he can pull us out of the thicket or snag us if we get too close to the edge of the precipice. He knows how to restrain my footsteps, how to protect me even from my own missteps. No matter where the danger comes from, the world around me (necessitating the rod) or my own foolishness (requiring the staff), I have a shepherd who is carefully watching and guarding me constantly. Indeed God is not some far off deity. He is a very present help, residing in your very soul. Imagine, the creator of the entire universe within you, just a prayer away. In most countries, you could never get an audience with the king. Our King of Kings is with you always, even to the end of the age.
If you are in a valley right now, look around. There beside you is the Good Shepherd. He's holding a rod in one hand, a staff in the other, and you are under His watchful eye. You can pray, for the Good Shepherd gives His presence in all of life's valleys. He has all the tools He needs to protect and care for you!
Phil Anderson