I was preparing a typical summer meal of burgers on the grill and summer sweet corn and while I was seasoning them with salt, I was reminded of the Bible verse from Matthew 5:13. "You are the salt of the earth."
Jesus was speaking to his disciples and to us, today. "You" sets us apart from other people who are not the salt of the earth. It is also a plural word referring to the church. I think Christ is calling on us individually and as a church to be the salt; to be the "seasoning' of the world around us. I also think it is interesting that Jesus did not say, "You will be the salt of the earth" or you have the potential to be the alt of the earth." Rather He says, "You ARE the salt of the earth." By that I think He is indicating that, by the grace of God, we are being transformed each day into the people He created us to be.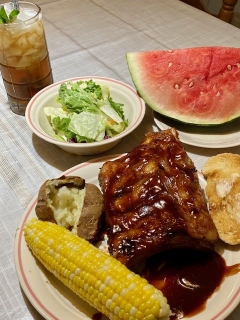 Salt in the shaker has little or no influence. However, it is of great value once it is mixed and mingled, in the correct proportions, with our food. When it is added on, or better yet, cooked into our food, it transforms the food into something delightful and memorable. Sometimes we even take pictures of our food to share with others. As Christians, we are of little difference to the world around us if we are sitting alone in the comfort of our homes. We have the opportunity, and yes the obligation to share our "salt" with Christians and non-Christians alike. Across the centuries, Jesus still speaks directly to us. He says we will flavor the whole earth. We have a huge responsibility to the world. Our "salt" will bring a zest and sharpness and flavor to a life that would otherwise be flat, dull, and tasteless without it. Our "salt" will also bring a power of preservation to a world that would rot and decay without it. Remember, you are special! You are the pinch of salt to the people in your lives. You can brighten and add zest to dull lives.
Come back next week, as I will talk a little about verse 14. This is the verse that talks about being the "light of the world." Now go on, grad the saltshaker and enjoy some good summer food!
-Phil Anderson