Lately, I have been reading the Gospel of John; one my personal favorites. The passage I would like to share with you today is John 7: 37-39:
37 On the last and greatest day of the festival, Jesus stood and said in a loud voice, "Let anyone who is thirsty come to me and drink. 38 Whoever believes in me, as Scripture has said, rivers of living water will flow from within them."39 By this he meant the Spirit, whom those who believed in him were later to receive. Up to that time the Spirit had not been given, since Jesus had not yet been glorified.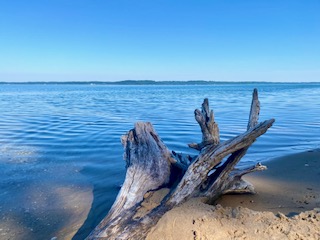 To me, this a remarkable and challeng­ing statement. Jesus said, "If anyone thirsts, let him come unto Me and drink. He who believes in Me, as the Scripture has said, out of his heart will flow rivers of Living Water". These words were spo­ken by Jesus to a people who were spiritually dry, empty and defeated. They were like many people of our day, going through daily life but finding no real meaning, joy, life, and victory. The Holy Spirit: Herein lies the power for life in abundance. The Holy Spirit is our power source. I have a lot of old hymns that stick in my mind and one is, Holy Spirit Breathe on Me. Part of the words to it are:
Breathe on me, breathe on me,
Holy Spirit, breathe on me;
Take Thou my heart, cleanse every part,
Holy Spirit, breathe on me.
Some days I think our lives can be difficult and spiritually dry. Kind of like the sound you hear when you clunk a dipper in the bottom of an almost empty bucket. Are you thirsty for the Word of God? The Holy Spirit is within each of us to renew us. Notice, Jesus did not promise a trickle or stream of flow, He promised a river! The Holy Spirit is like a mighty river – a life giving and renewing river! God's Spirit continually reaches out to embrace and encourage us. When we are at peace with God, rivers of living water will flow from the deepest part of your being. I believe you will find meaning and contentment.