Does your cup overflow?
Whenever I forget to fill my dogs' water dish you will see them circle around it, sniffing and then looking up at me with those big brown eyes. I know immediately it is once again time to tend to their needs. Fortunately for us people types, God knows our every need and the "bowl" of blessing never runs dry. God, the Good Shepherd makes sure our cup is full and overflowing. To paraphrase Psalm 23, I think David was saying, "God's blessings have been poured out into my life so greatly that they overflow! I cannot contain them. I cannot absorb all the mercy and goodness the He has given me. I live in constant thanksgiving - so much so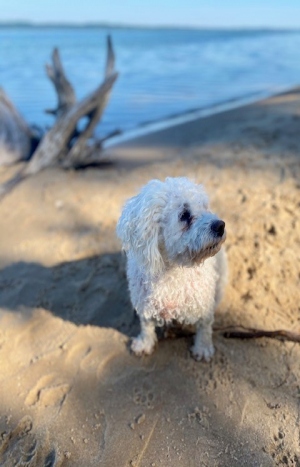 that my cup overflows. Surely goodness and mercy are following me all the days of my life."
The Christian life is the life overflowing; life lived abundantly. A joyous earthly life as God's laborers in the vineyard is simply the overflow of our walk of faith with Him. We labor doing God's work with our hands, not with grumbling or dissension but out of gratitude for all we have been given. Do not let your cup run dry trying to do the Lord's work. Truly, a content Christian does God's work with a joyous heart, that which flows over the rim!
Just as my dogs can't fill their own water dish and rely on me, we look to God for refreshment. Jesus promised that the water He gives us would become a spring of water welling up to eternal life. The Good shepherd purchased our cup of blessing for us when He laid down His life for His sheep. Christ is indeed our tending Shepherd. Rejoice and be glad for your cup overflows!