In many of my earlier messages I have talked about Psalm 23; clearly one of my favorites. It speaks to me on so many levels and provides comfort and assurance in all circumstances. God is indeed The Good Shepherd who tends to us in all of our needs.
When my kids were sick, I would go into their room and sit on the edge of their bed and talk to them, assuring them that I was there for them and that I would take care of them. I would minister to them with a cool cloth on their forehead, take their temperature or bring them a cold remedy. They would relax and snuggle under the covers and go back to sleep – content that their Dad was "on duty" and watching over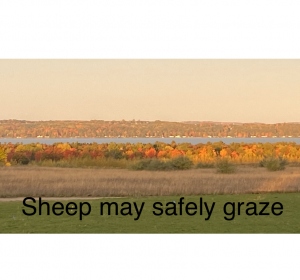 them.
It's often during life's hurts that we come to understand the heart of the shepherd. We learn to accept His care and to trust His heart. As He tends to us and mends us, we come to love Him and more fully receive the comfort He gives. Troubles in our lives have a way of driving us to the Lord's tender mercies where we bond with Him through the verses He gives us. The word "tend" is a delightful biblical word – a shepherding term that appears 36 times in scripture. It literally means to apply ones self to the care of another. In the book of Genesis, we see Jacob tending the flock of Laban. In Exodus, Moses was out tending the flocks when God appeared to him in the Burning Bush. David, the youngest of Jesse's sons was tending sheep when Samuel was seeking his successor. In the Bible, the lamb represents Christ as both suffering and triumphant; it is typically a sacrificial animal, and also symbolizes gentleness, innocence, and purity. In a larger sense, we are the sheep of God's flock.
Sheep are very much like human beings. They need a good shepherd to tend to them. We need a Great Shepherd to stay with us through the dark nights and through all the experiences of life. We need Him to sit on the edge of our bed and reassure us that all will be well, soon. God is always there to extend the hand of mercy to us, someone to tend to us and our families and all of our needs.
When I was in high school, we sang a wonderful song that still sticks with me to this day. It was a song written by J. S. Bach titled "Sheep May Safely Graze". We had to learn to sing it in the original German, which was a real challenge. However the words in English are rich and powerful:
"Sheep may safely graze and pasture
In a watchful Shepherd's sight.
Those who rule with wisdom guiding
Bring to hearts a peace abiding
Bless a land with joy made bright."
If you have time, I encourage you to listen to the Mormon Tabernacle Choir perform it on YouTube.
Friends, I hope you will see God as your Good Shepherd. Jesus said, "I am the Good Shepherd, and I lay down My life for My sheep." Take time to know the Shepherd. He will give you peace in all things.
The Lord is my Shepherd – That is enough!