Grieving is not about forgetting your loved one, it is about being able to remember them without the pain.
For the past couple of months I have been receiving weekly emails from Hospice of Michigan with grief affirmations. The quote above is one that I especially liked. I am writing this on Fathers Day weekend. This is the first one without my father so I have been thinking about him a lot.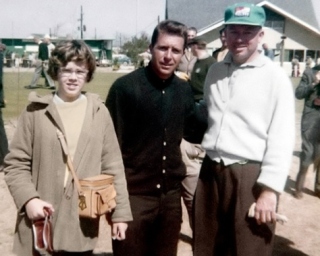 My father and I had some common interests – golf, New Orleans Saints, Mardi Gras and food. Playing golf with my father was not always a lot of fun because he wanted to give me lessons while playing when I just wanted to be out on the golf course. But we played together whenever we could. This photo of Gary Player, my father and me is from the day that my father's team won the pro-am at the New Orleans PGA tournament. It was an exciting day for both of us and it was something that he remembered for the rest of his life. I became a Gary Player fan when, at the tournament the next year, Gary remembered my father.
I can still hear my father telling me to hit it straight or keep my head down before I went out to play golf. I can still hear the excitement in his voice when he talked about how well the Saints were playing. It was heartbreaking for me to hear how dissapointed he was when the Saints lost in the playoffs as I so wanted him to see the team play in the Super Bowl once more in his lifetime.
I remember the last time that my sister ordered crawfish from Louisiana. My father felt like he was back in New Orleans eating his favorite seafood.
It has been 12 years since my mother passed away. She had such a joy for life. Her family was her greatest passion thoughout her years. She loved both of her daughters and her granddaughters and her granddaughters' husbands. I remember when one of her granddaughters surprised her by flying in for a Thanksgiving visit. The look of joy was on her face. Grandma did not live long enough to see her great-grandchildren but I know she is watching over them from heaven.
My mother was from Ft Wayne, IN and moved to New Orleans when she married my father. She embraced the New Orleans culture – the history, Mardi Gras and of course, the food. She learned how to make the New Orleans favorites from family and friends – gumbo, jambalaya, red beans and rice and crawfish etouffee were some of her "specialties". She also enjoyed just sitting down with friends to peel crabs, crawfish or shrimp. My sister and I thank her for her inspiration. Whenever I cook I can see her cooking away in her own kitchen.
Mother also loved Mardi Gras. Not just the parades but also the balls. She loved the formal gowns that she wore for the balls. One particular one was her favorite – I can still see it. It was multi-colored and sparkly. Mother was beautiful in it.
The photo is a picture of my mother and me with New Orleans blues singer Irma Thomas when Irma performed at our St John Mardi Gras Family Fest.
Take care
Shalom – Do not be afraid
Barbara Oster