This past weekend, in my "Real Virtual Church" message we explored a new household term in this rapidly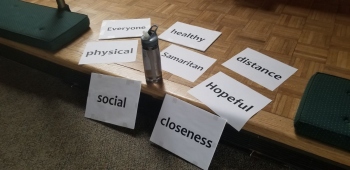 changing age: "Social Distance." Building upon ELCA Presiding Bishop Eaton's message recently (click here), we talked about several key "spin-offs" of those words, social and distance. Here are few follow-up definitions, and a couple new thoughts...
"Social": Does our distance really need to be social, or just physical?
"Distance": Like the Samaritan woman and Jesus in the John 4 gospel reading, distance is something society (and now, sickness) "requires" - but we can still stay connected despite the distance things Coronavirus can put between us.
"Physical": There is nothing quite likely being able to shake another's hand, give them a hug, or sit next to someone we love...But for now, the physical proximity can be substituted with good communication...and as the old expression ("Absence makes the heart grow fonder") goes, so might be true of reconnecting physically someday.
"Healthy" or "Hopeful": Perhaps these are even better words to replace the word "social" in "social distancing."
"Closeness": In some ways, closeness is the opposite of distance; or, in our case, we can be emotionally and spiritually close, regardless of needing to "keep our distance" from one another.
"Everyone": God's love, and ours, is for everyone - not just the "Samaritan" in us or our neighbor. And God's Living Water at the well of our baptism is meant for all those who believe, and even those who don't (yet!)
Prayer: Dear God, help us to stay unafraid, and stay connected...even when physically separated by feet or miles. We are hopeful, and yearn for healthy closeness. We know that is possible through you, and with your gospel. Thank you for this living water that washes us all, connects us and sustains us, in your name. Amen.
-pb