I began playing the flute in sixth grade because I thought it was the most beautiful sounding instrument ever! I also played piccolo in high school. In my final concert as a senior, I got to play the piccolo solo in John Philip Sousa's "Stars and Striped Forever." It was possibly the hardest part I had ever played, plus my director made me stand up to play it! I don't think I've ever been as nervous as I was that evening.
When I was 16, I decided I wanted to learn to play the guitar. I took lessons for about six months, and then my instructor decided he want to get his Master's Degree in Music. He left all of his students to me and went off to school again, and thus began my career in teaching. Since 1999 I've been an instructor in the band program at Grand Traverse Area Catholic Schools. Through this job, I've learned how to play the clarinet, oboe, saxophone and can teach beginning brass, even though I don't play any brass instruments. I've also taught percussion. I can perform on seven instruments and have a working knowledge of at least another seven.
My path to the door of Bethlehem was a bit unusual. Years ago I took steel pan lessons from Dave Warne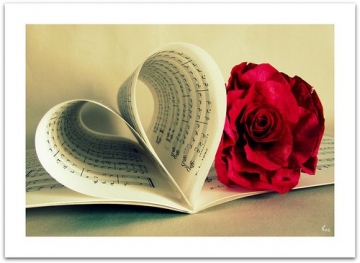 in his private studio. Many years later, we ran into each other at Tom's grocery store. In the course of our conversation, he told me he had taken a position at BLC as their bell choir director. I played hand bells as a teen at my home church, and when Dave heard that, he asked me if I would join his choir. The one thing he failed to tell me was that I would have only one rehearsal (after 30 years of not playing) before our first performance! I honestly don't remember whether I did a great job, but they asked me to stay on, so I guess it wasn't too bad J Soon after that, I joined the choir and decided to make Bethlehem my home church. After holding several positions, I now enjoy my dual jobs as Administrative Assistant and Music Director.
It has always been hard for me to identify a "favorite" song. I enjoy a variety of genres of music, but one that really speaks to my heart is Christian Contemporary. I feel blessed to be able to share my love of this music with all of you. If I had to name one song as my favorite, it would probably be Hans Peterson's "Blessed Are Those." This is one of the songs that the Celebrate! Band has really made our own. We've jazzed it up with Zeke's wonderful guitar playing and when adding Pastor Paul's drum set, we really rock this song out! It's always fun to have David play with us on Sundays. His additions and fills make our little team sound professional. Part of the lyrics are "you are not loved for what you do, but for whose you are." This line perfectly sums up my relationship with Christ. I know that no matter what happens in my life, or what I do (or don't do), He will always be at my side.
I know with absolute certainty that His hand is on us throughout these trying days. I am also absolutely certain that we will be able to worship together again, in person, soon. My hope lies with the Lord in all things. Isaiah 43: 1-2 says, "1 But now, this is what the LORD says— he who created you, Jacob, he who formed you, Israel: "Do not fear, for I have redeemed you; I have summoned you by name; you are mine. 2 When you pass through the waters, I will be with you; and when you pass through the rivers, they will not sweep over you. When you walk through the fire, you will not be burned; the flames will not set you ablaze." God never promised us an easy walk, but he DID promise to help us through, if we just trust in Him. Keep safe and be healthy!
Peace,
Sharon