Music has been a part of my life since the day I was born. My folks are both vocalists who met in The Acapella Choir at Holland High School. As far back as I can remember, my mom sang in a trio with one of my aunts and a mutual friend of theirs. They "toured" Holland, singing at many area churches. She, my dad, my sister and I have all been members of the adult church choir since we were teens. My dad was relegated to sitting with me and my siblings during church while we were young, but once we were old enough to be on our own, he once again joined the choir. Years after we left home, he joined a men's touring choir called The Singing Crusaders of Western Michigan, a group from which he has since "retired."
Aside from all of the vocal talent in my family, my sister, brother and I were all instrumentalists in the school band and learned to play the piano. Nancy played clarinet and then bassoon, I played flute and Randy was a percussionist. We did concert, jazz and marching band. My sister and I also played in the orchestra. As the drum major of the band as a senior, I was the student director of the jazz band. We played in the field house for basketball games and our number-one tune was "Sweet Georgia Brown" which we played when the team came out on to the court for warm-ups, just like the Harlem Globetrotters! My children are also quite musical. They all sing and each was a member of the concert and marching bands: David played trombone, Liz and Steph both played flute (of course!!) and Brad was a percussionist. Music must just be in the genes of my family!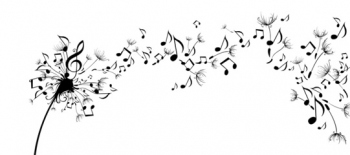 My musical "career" started in children's choir at church, and then at about age eight, I started piano lessons. One of my favorite hymns is "Jesus Keep Me Near the Cross" by Fanny Crosby. It's in our red ELW hymnal (#335) and was in the hymnal my church was using when I was young. It's the first hymn that I learned to "play with both hands." Even without practicing, I can still play most of it without mistakes, even though I don't play piano much anymore. I actually have a lot of favorites, but the words in this song mean so much to me. The fourth verse and chorus are: "Near the cross I'll watch and wait, HOPING, trusting ever, till I reach the golden strand just beyond the river. In the cross, in the cross be my glory ever; till my ransomed soul shall find rest beyond the river." This song sings of peace and contentment and the protection we find at the cross. My personal faith journey has been complicated, not in a bad way, but with a joyful variety of experiences. In every phase of my walk, the one thing that I've always held close to my heart is the secure knowledge that Jesus bought my salvation at the cross. No matter where I am or what's going on in the world, I know that the hope I have in Christ will sustain me and protect me!
Peace,
Sharon