Welcome back. I hope you have enjoyed the last three editions of this blog as much as I have writing them. Psalm 23 is such an inspirational set of verses. I enjoy the peace and hope it brings me; every time I read it. Theses few verses sum up all our needs in life and all the abundance of God's limitless grace. Notice how it begins with "The Lord" and ends with "forever". God is indeed the Alpha and the Omega.
I Shall Not Want
Because we put God first place in our lives, we have more than enough. We lack for nothing.
I have peace – He makes my lie down in green pastures
I have food – He leads me beside the still waters
I have hope and encouragement – For He restores my soul
I have a clear life path – He leads me in the paths of righteousness for His Name's sake
He will always be with me is difficult times – For even when I walk through the valley of the shadow of death, I will fear no evil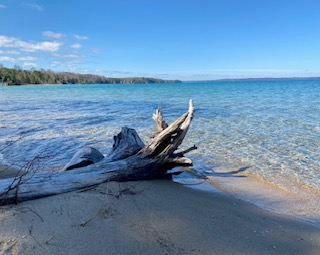 I will always have a companion – For you are with me
You are my protection – Your rod and your staff they comfort me, and you prepare a table for me in the presence of my enemies
I will have healing and help in all of life's events – you anoint my head with oil
I will have life, abundantly – For my cup overflows
I truly lack nothing – For goodness and mercy will follow me all the days of my life
My hope is in Heaven – For I will dwell in the house of the Lord forever.
I remember how LoAnn VandeLeest signed her emails: "More than enough".
Because the Lord is my shepherd, I want for nothing. I am fulfilled, safe, loved, and satisfied. I am assured of my place in heaven!
Next week I will try to wrap up my thoughts on Psalm 23. I have enjoyed this time with you and I hope you have found it inspiring and has given you hope during these uncertain times.
Phil Anderson