I was lucky to go to Cornerstone University and be surrounded by professors who were open and embraced their faith in class. The professors in my theatre major were no exception. We would often start classes and shows in prayer, asking God to have our performances not only go well but also reflect our love for Him and to bless Him by using the talents He gave us to tell an amazing story--whatever that story in particular was. Nancy Wagner was one of my favorite instructors within the theatre department. I've lost touch with and don't talk to a majority of my Cornerstone Theatre colleagues--time and the busyness of life has taken its toll--but I do keep up with some of them on Facebook. I've been happily watching Nancy head to Chicago and thrive in that theatre community while also adding things to her filmography here and there...but recently she's been posting a lot about her experiences with having to stay home because of Covid-19.
Her post the other day was something that made me stop and pause to think. In a post about her early experiences with Covid-19 she ended: "God is everywhere: in the tears, in the praise, in the ventilators, in the leaders, in the prayers, in the birds, in the neighbors, in our hearts; we can choose to see Him."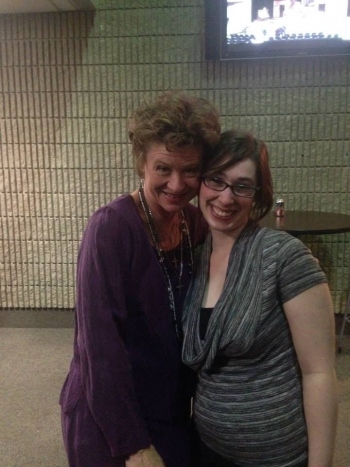 Nancy is so right. God is everywhere and sometimes, for some people, it's hard to remember that. Especially during times like this...but He is everywhere! The sun is shining as I'm writing this blog and I'm sitting on my porch at my apartment with my dogs at my feet. God is in the sunshine. He is in the cool breezes that give me a burst of energy as I let the fresh crisp spring air fill my lungs. He's in the little flies that my puppy, Milo, is chasing. He's in this moment of zen. In this moment of peace and tranquility. Had I not read Nancy's post, I would have appreciated this moment sure, but I may not have been reminded of the presence of God in it. We take these moments for granted--especially during a time of upheaval and uncertainty.
God is present in those moments too. I think back to another time of upheaval in my life. Writing this blog post has brought back many memories of my time at Cornerstone University. I made some lifelong friends there and have some great memories...but I also have a few negative ones. At the end of my Junior Year it had been announced that the school was going to cut their theatre program. I was angry. I felt abandoned by the university that had said that they cared about me and my future. Sure, they said that anyone who was still in the program would be able to finish if they wanted to stay at Cornerstone, but how could they actually care about my future? They were cutting my program!
I didn't acknowledge it at the time, but God was present in that moment and the moments that followed. Deuteronomy 31:6 (NRSV) says "Be strong and bold; have no fear or dread of them, because it is the Lord your God who goes with you; he will not fail you or forsake you." Although it was a time of great pain for me, God took this moment and gave to me an amazing support system; Nancy included. It was a time of struggle and of me trying to figure out my self worth, but it was also the time where I was able to truly define what I wanted in life. Throughout my entire college career I had said that my dream was opening my own theatre, or working in some sort of theatre management...when I found myself presented at these crossroads I realized I didn't want that after all. I didn't know what I wanted anymore and that left me in a strange new limbo. I was afraid and not sure how to process the pain and abandonment I was feeling from my university...but also the abandonment of what I thought was my lifelong dream.
It was around that time that God led me to my first "big girl" job at Comprehensive Physical Therapy Center in Grand Rapids, MI. During this transitional time in my life God used this position to show me the path that He had laid out for me. To serve others. To serve and love those who God has placed in this world. A few things happened here and there in between, but ultimately, this calling of service is what led me here to Bethlehem.
This time is uncertain and scary, but God is present. He's here and He's with us. Things may be different going forward but that doesn't mean that it's the end. There will be new opportunities that come from this time, although we may not see it right away. Whenever I am feeling down or upset, I take a moment to remember that God is with me and that He will never leave my side. These moments are so incredibly crucial to help me get by. If anyone reading this is feeling down, just remember...God's with you, and He will never abandon you!
Cheerfully in Christ,
Annie Slabaugh