Be Strong in the Lord!
"…but those who hope in the Lord will renew their strength. They will soar on wings like eagles; they will run and not grow weary, they will walk and not be faint."
Isaiah 40:31
My early education comprised of nine years at St John Lutheran School in New Orleans. I had wonderful teachers:
Mrs Bode – Kindergarten – she was a sweet lady
Mrs Scheck – 1st Grade – she was not much taller than her students
Mrs Muller – 2nd Grade – as short as Mrs Scheck was, Mrs Muller was tall
Miss Braatz – 3rd Grade – a first year teacher who noted to my parents that I probably needed to have my eyes checked for glasses since I always walked up to the blackboard to copy what was written there
Mrs Uhlich – 4th Grade – her classroom library had a wonderful collection of biographies – I read every one of them
Mrs Borcherding – 5th Grade – she was also the choir director at St John Church and taught music to all of the grade classes –my love of music began with her
Mr Rothfuss – 6th Grade – he was my first male teacher – he looked like the actor John Gavin (google him – you will see why all the girls liked Mr Rothfuss!)
Mr Geihsler – 7th and 8th Grade – my absolute favorite – more on him later
Mr Borcherding – School Principal who also taught American and Louisiana History to the older classes
St John's mascot is the Eagle. The quote above is one that is used around the church and school. It reminds me of Jim Geihsler – a teacher who taught us more than "book learning". He was not a very tall man but he was tall in his students' eyes. He was a true Christian. His voice was never raised at his students but we certainly knew when he was upset with us.
Besides teaching, Mr Geihsler also coached sports. An article was written in 1962 in the New Orleans newspaper about Mr Geihsler. I still have and cherish the article even though it is a little faded. It highlighted that in three years, he led St John to three Lutheran league baseball championships, two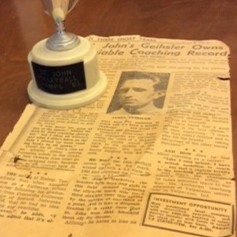 Lutheran league football championships and two Lutheran citywide track championships. His quote in the article was telling of his character: " The kids had the will and the desire to win, plus a tremendous amount of school spirit and ability." I am sure that Mr Geihsler was the reason for their will and desire.
I did play softball and volleyball in my last three years at St John. As much as I loved softball, volleyball was my favorite. Because of what I learned from Mr Geihsler, I continued playing volleyball throughout high school and college. My favorite story was when we were playing for the Lutheran School championship in 1963. It was intense playing against First English Lutheran School – a very strong team. Of course, we won. As we celebrated after the game, Mr Geihsler gave us each a small trophy that had already been engraved "St John Volleyball Champs '63". I still have it as you can see by the photo here. This demonstrated his confidence in us.
My 8th Grade graduation from St John did not end my learning from Mr Geihsler. After college, I attended Mr Geihsler's Bible class on Sunday morning. The only structure was that we began the class with prayer requests. This was so important to all of us. Many times it took up half the class time because of the stories behind the requests. At one time, we prayed for many weeks for "Irv". He was a friend of a member and was undergoing cancer treatments. Finally, one Sunday, Irv showed up at our class. He wanted to meet the people who had prayed for him. Irv then joined our class. He often had prayer requests for people who he had met while he was a hospice volunteer.
After the prayers were completed, we continued with our Bible study. We took a book of the Bible and began at Chapter 1, Verse 1 and discussed verse by verse. There were Sundays where we only discussed one verse and then a few times where we did not get past the first word! We would go on until the end of the book. The class would then make the decision as to the next Bible book we would discuss.
Unfortunately, Mr Geihsler lost his fight with cancer. The cliché "gone, but not forgotten" certainly applies to Mr Geihsler. I think about him often. What I remember is learning from him just by watching him was how to be a true Christian. As I noted above, he was small in stature but he showed us how to use strength so that we would "soar on wings like eagles".
I had wonderful teachers throughout my education but the teachers that I had during my years at St John really stood out. My classmates agree that our teachers' Christian values helped form our lives today. So, think back on your teachers that you have had. How many of them still influence you today?