Do you feel that angels are watching over you? I do. I can feel them watching over me for so many things from finding a parking space to guiding me while I am traveling. Example: I started driving to my sister's house in Arcadia one day. When I had just turned onto Secor Road, I remembered that I had something that I wanted to give to my niece, who was visiting, so I turned around to get it. After getting it, I was finally on my way to Aracdia. When I was going through Benzonia, I came upon a terrible accident which had happened a short time before. I know an angel was watching over me and "made" me delay my travel to Arcadia.
Another story: My mother was living in the Pavillions when she passed away. My sister and I decided to prepare a lunch for the staff on the floor that she had lived on. It was decided that I would make our mother's favorite recipe for Butterscotch Brownies. I was very nervous because I had never made it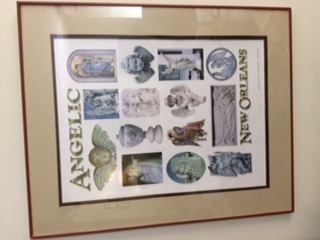 myself. I had assisted but never actually made it. I started making the brownies early the day before the lunch date because if I had problems I would have time to bake a new batch. Well, I feel that an angel (my mother) was standing next to me and helped me do all the right things so that they came out perfect. Now I look forward to making them.
The photo is a poster that I have hanging in my house. Each angel pictured is from various places in the New Orleans area. They came from three different churches: St Louis Cathredral in the French Quarter, the Greek Orthodox Cathedral of Holy Trinity and St Paul Lutheran Church. The rest (except one) are located in several cemeteries. The last one is from the home of the author, Anne Rice (third row right side). Also the St Paul angel is on the left side of the second row. The angel is behind the altar. I remember it from the many times that I attended services at St Paul.
Remember that you are in the care of angels always.
Take care
Shalom – Do not be afraid
Barbara Oster