I have a confession for you all...I have been zooming a lot. No, I haven't broken any speed limits or made any moving violations recently. But I've been taking part in what a lot of us have been doing: meeting others remotely...from staff meetings, to committee meetings, to a session or two with old friends.
But yesterday I was blessed to take part in a Zoom online meeting that had no stated objective, and no expectations other than reconnecting willing pieces (ahem, "members") of the Body of Christ...and it was grand!
I know this probably sounds like a "plug" for "Zoom Fellowship" - the newest virtual experience BLC has put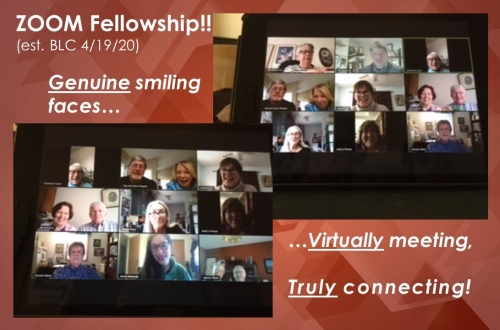 together during this era of Covid and stay at home orders. And, yes, maybe at some level it is just that. Yet I think it's more. Sometimes when you experience a moment of release from captivity, amidst others who are also experiencing both that release from cabin fever and that reconnecting with people you haven't seen in weeks (like Barbara, Marilyn, Ron, Jodi, Carolyn, the Pepplers and more!) it's not a "head thing" it's a "heart thing." Agape love and true fellowship were indeed in the virtual space between us. Thanks be to God!
At one point in our post-worship gathering, Barbara Oster took these two photos of her computer screen. For those of us old enough to remember the game show "Hollywood Squares," it felt like we were all looking at celebrities of sorts: people made "famous" by somebody else, or indirectly by us. And then it occured to me: it was a little like that...Except we were not celebrities in the entertainment sense, and if we were "stars" we were made such by the power of community and the Holy Spirit. Friends, we were not famous. We were family.
...And that is what it means to be in a ZOOM (like a ROOM), like no other!
Thanks for signing in. Perhaps we'll see you next time.
With peace, hope, love and faith,
Pr. Paul