New "Third Thursday" Worship at Bethlehem
September 15th at 7pm marks our first EVER "Third Thursday" worship service, and we hope you can join us!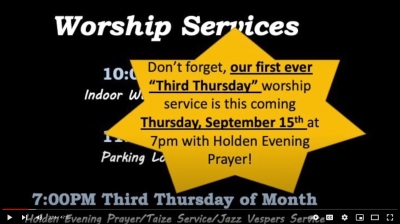 Every third Thursday of the month, from September through May, we will have a full worship service including readings, a short message, and communion. The format for each service will vary, much like the old Saturday service did, but with a larger rotation of worship styles moving forward. In September we will feature a Holden Evening prayer service. In the coming months, we will have another Holden Evening Prayer service, two different variations of Taize (one with completely new music), a Jazz Vespers, hymn/song sings and a "Celebrate!"(contemporary) Third Thursday formatted service, likely in the spring.
Spread the word, and hope to see you soon!