The BLC Food Pantry is Open!
Your donations are welcome- non-perishable items please.
Always there for those in need.
Right by the outside door to the kitchen.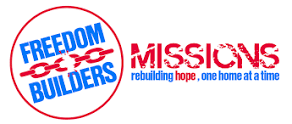 This summer, we will be participating in a weeklong serving opportunity from July 18th - July 23rd with Freedom Builder's Missions Week and all of Bethlehem is invited!
Freedom Builders is a local non-profit organization that helps individuals and low income families fix up their homes, although they put their main focus on glorifying Christ and empowering the body of Christ to be missionaries in their own communities.
Freedom Builders understands that most people can only serve 1-2 days tops or possibly even only a partial day is perfectly fine. They also understand that not all want to be involved with construction so they have quite a few opportunities for those who wish to serve, but be sure to let Annie know which days you are hoping to attend and if you are looking to serve in a specific capacity.
There will be an informational meeting on Sunday June 5th right after church in the youth room and all who are interested in serving are invited. Reach out to Annie at annie.slabaugh@bethlehemtc.org if you have any other questions!
Potential Serving Opportunities:
Prayer Partners
Follow Up Partners (Couples or gender specific)
Food Preparation
Lunch Delivery
Material Pickup & Delivery Runners
Project Managers
Project Coordinators
General Laborer
Musicians for Saturday Praise and Worship
Volunteers for Saturday Night Picnic
Small Groups Serving together
Volunteers' emphasis for this week is for adult serving but Middle School and up is welcome!