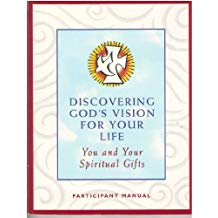 This course that began on September 10 and will meet every Monday evening from 6:30 to 7:30PM through October 29. That's eight weeks. A registration fee of $15.00 covers the cost of materials.
-Learn what spiritual gifts are and where they come from
-Find out what the Bible says about the different spiritual gifts
-Explore what your own spiritual gifts are
-Discuss how you can apply spiritual gifts in your life
-Understand better what God has planned for you
To find out more, call Bonnie Newhouse 231-392-2319 or linda Gokey 231-631-2537.
There are registration forms in all recent service folders. Or just leave a note in Bonnie's mailbox at Bethlehem.
Please consider joining us!